Travis Scott Got A HUGE Head Tattoo Ahead Of His 'Astroworld' Tour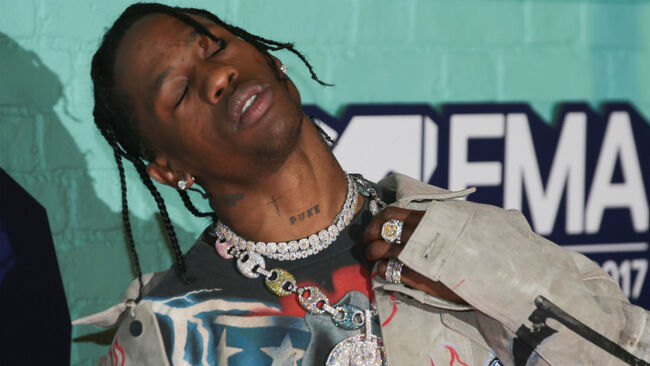 That's one way to prepare to go on tour.
To celebrate his upcoming "ASTROWORLD: Wish You Were Here Tour," Travis Scott got a large geometric tattoo on his head. The tat, which was done by Scott Campbell, is on the side of the "SICKO MODE" rapper's dome. The painful-looking ink features a cool lined design that starts at the side of Travis' forehead and goes all the way back to the left side of his head.
While Travis has yet to reveal the meaning behind his new tat, he seemed more than happy with it, sharing a photo of himself getting it done to his Instagram on Thursday (August 17). "Getting tour ready," he captioned the pic.
His tattoo artist also seemed excited to have had the opportunity to work with the "STOP TRYING TO BE GOD" rapper. Scott captioned a photo of the finished product, "So much love homie. Keep crushing."
Travis officially announced his "ASTROWORLD: Wish You Were Here Tour" on Thursday. He also revealed cities for the first leg of the tour. So far, the dates feature stops in the U.S. beginning in Baltimore.
"ASTROWORLD: WISH YOU WERE HERE TOUR !! PULLING UP EVERYWHERE THIS IS LEG ONE EUROPE AND OTHER CITIES COMING SOON !! 🎢 🍿🗺📍," Travis captioned a list of his tour stops on Twitter.
On Friday (August 17), the rapper's girlfriend and baby mama Kylie Jenner announced that she and Travis' daughter Stormi will be joining him on Tour. "me and storm ready for tour 🎪♥️," she captioned a photo of an "ASTROWORLD" tour poster on Instagram.
Travis released his third studio album, Astroworld, earlier this month. It had the second biggest sales debut of 2018.